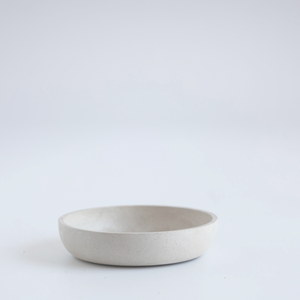 PLEASE NOTE THIS IS A PRESALE! PRODUCT SHIPS AFTER 08/31/2023

Welcome to Loopy Products, where sustainability + style are entwined to create an elevated dining experience for your pets.
Introducing our extra small Nala bowl, thoughtfully designed with your pet + the planet in mind. It features:
-6 ounce / .75 cup capacity
-Elegant seashell (cream) color
Crafted with care + innovation, our pet bowls are designed to be the epitome of convenience for busy pet owners, with details including:
-Made with bamboo
-Exceptional durability
-Effortless washing
-Skid-resistant backing to reduce sliding and spills
-Stylish + sleek, complementing any home décor
-Effortlessly integrating into your modern lifestyle
-Melamine-free
-BPA-free
At Loopy Products, we're passionate about making a positive impact on our planet. Did you know that pets consume about 25% of all calories derived from meat in the United States? Our products help them reduce their carbon paw prints, by utilizing plant-based agricultural waste in our products. This reduces the use of non-sustainable materials, including glass, plastics and ceramics.
Not familiar with plant-based agricultural waste? No worries – We can fill you in.
This is the waste that remains from farming, after the food is harvested. There's a LOT of waste. We're talkin' billions and billions of pounds… This waste generally gets sent to landfill or burned, which is both polluting and a total waste.
Choosing our sustainable pet bowls means you are making a conscious decision to reduce landfill waste and air pollution, while helping Fluffy + Fido live their best lives.  

Care Instructions:
-Dishwasher safe top rack only. Hand wash preferred
-Wash before initial use
-Do not microwave
We take pride in using natural materials in our products, which may result in slight color variations between the product you see in photos and the item you receive. We love how these variations showcase the authenticity and uniqueness of our sustainable products. Each product is as unique as a zebra's stripes.